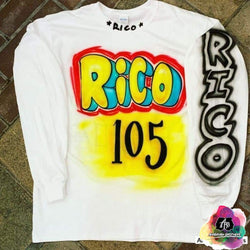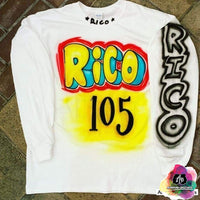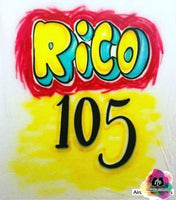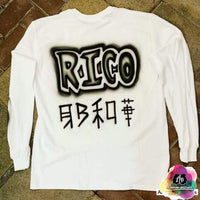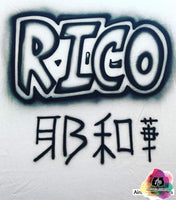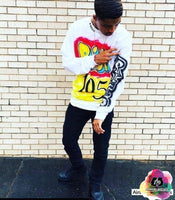 Airbrush Brothers
Airbrush Rico (Paid in full) Shirt Design
Product Overview
Customizing
Our airbrush products are painted by hand, each product is unique and original. Our artists may change the layout and some details of the design to fulfill your exact request.
Processing Time
3-5 Business Days
Product Details
Design includes front and back airbrush 
Long Sleeve option includes airbrush name 
5.4 oz. 100% pre-shrunk cotton
Light breathable cotton
Double-needle stitched for durability
Color shirt are more expensive since they require a base layer of white for color to show
Iron over painted area for approx 2 min, iron set to high or cotton. Baking sheet or thing towel can be placed on top or artwork. 
Wash inside out in cold water, no bleach
Let it air dry or in dryer with low heat. 
*Dry cleaners is also a good solution*
We offer FREE shipping (5-8 business days) on order over $75
Standard Shipping (5-7 business days) 
Priority Shipping (2-4 business days) 
Express Shipping (1-2 business days) 
Need it sooner? CONTACT US
x
paid in full
i ordered the paid in full design except w my boyfriends name on it and let me tell u it was phenomenal, holy freakin meatballs, i mean better than the sample photo. i did pay for 2-3 shipping and it didn't arrive until a little over a week later but that's fine still came just in time for my anniversary. now my boyfriend can dress killa just like rico, no pun intended. thank u airbrush brothers.
I thought that it was super duper dope just one thing my name was spelled wrong it should of been Macaroni&J and it was Macoroni&j but the shirt came out fire I just need. It spelled right.
Killa
This is a dope recreation of Rico's Paid in Full swag. Does anyone know what language that is on the back though?
Rico, paid in full shirt
Haven't worn yet, but it looks AMAZING!! My god you guys did an amazing job!!! Thank you for such a beautiful masterpiece that I'm afraid to wear and dirty now!
Airbrush Rico Paid in Full Shirt Design